5 Incredible Tips to Help You Hire the Right Employees for Your Restaurant
Disclaimer: There are affiliate links in this post. At no cost to you, I get commissions for purchases made through links in this post.
The success of any restaurant depends on the staff. The people you hire to work in your restaurant will make or break your restaurant since they play a crucial role in the profitability of your restaurant. Running a restaurant itself is not an easy task. That's because this industry faces a lot of competition, and the diner's choice can also be quite overwhelming. This is why you need to hire a first-class hospitality staff to help you run the business efficiently.
But hiring the right restaurant staff can be quite challenging, especially if you don't understand the whole hiring process. This article gives you some of the best five tips to help you hire the right restaurant staff. Let's explore them.
Determine which roles you want to fill
Before you even start the recruiting process, you need to determine which roles need to be filled. Restaurants have plenty of roles, including managers, shift managers, cooks, waiters, dishwashers, etc. However, depending on the size of the restaurant, bartenders and hosts may also be needed. So, you need to determine which among these positions need to be filled and how many are required.
Identify responsibilities and requirements
Once you have determined the roles to be filled, you need to outline the responsibilities and requirements for each position you are hiring. Of course, the responsibilities and requirements will be different for every position. The general rule when hiring restaurant staff is to hire people with exceptional customer service. A restaurant is all about service. That's why people you hire should possess this critical trait.  From there, you can look for more role-specific traits and define specifically what you are looking for in candidates. If you are looking for "coffee jobs near me," ensure that you have the right skills, which are perfect for the job.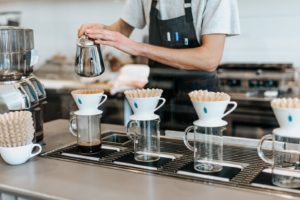 Know where to look for quality staff
One of the most challenging aspects of the employee recruitment process is determining where to source the best candidates. Fortunately, there are plenty of recruitment agencies in the market and job listing on the internet where employers can source the best employees.
Social media groups as well as culinary schools, and restaurant-specific hiring sites are all incredible places to find candidates for your restaurant.
Pay attention to your restaurant culture
You may think that your restaurant is one of its kind, but the candidates may not know that. With thousands of restaurants available in the United States alone, you need to make your restaurant stand out during the recruiting process. You can achieve this by emphasizing your restaurant's culture in your website, recruitment materials, and job description.
Ask the right interview questions
This may seem obvious, but you must ask relevant questions when interviewing the candidates. As questions that emphasize customer orientation and transferable skills. Some of the questions you can ask your potential candidates include: